Unicoi TN Real Estate Market
If you love mountains and spending time outdoors, and you wish to live in a small community surrounded by natural wonders you should consider the Unicoi TN real estate market. Unicoi, Tennessee is a rural town located in Northeast Tennessee, in Unicoi County. It is a part of the Johnson City–Kingsport–Bristol, TN-VA combined statistical area which is known as the Tri-Cities region. With the population of less than 4,000 Unicoi is a perfect choice for home buyers looking for family friendly neighborhoods, away from crowded cities.
Unicoi TN Real Estate For Sale
Unicoi TN real estate properties for sale can range anywhere from below $100,000 to close to $1,000,000. Many of the homes here offer some amazing features such as outbuildings which could be used for a stable, storage or a workshop. The houses are situated on fairly large lots so there is a plenty of room for a vegetable garden, playground or outdoor area for family pets. If you love the idea of living close to nature where you can grow your own food and take walks in a serene environment you will definitely find a property to fit your needs in Unicoi TN. Check out some of the homes for sale now:
Search all Unicoi TN Homes for Sale Here
Unicoi is not a large real estate market so oftentimes there are several buyers interested in the same property. Make sure the real estate professional you're working with is an exclusive buyer agent who is a skilled negotiator representing only you and your best interest.
Location, Location, Location
When it comes to Unicoi TN real estate, the area truly has tons to offer. Unicoi is situated in the North Indian Creek Valley surrounded by the Cherokee National Forest. It's a real nature lovers paradise! There are several hiking trails around the town with different plant species, animals and waterfalls to explore. With all the streams and rivers in the area there are plenty of spots to go fishing for trout, small mouth bass, muskellunge, pan fish and more! If you own any of the all-terrain vehicles (ATV) such as a quad or four-track you will be excited to know there is a regional ATV trail on Buffalo Mountain in Unicoi. You can easily get a day pass to the trail by paying $5 or visiting the Watauga or Nolichucky/Unaka Ranger Districts.
Surrounded by the abundance of the natural beauty it is hard to believe Unicoi is located only 15 minutes from Johnson City and 30 minutes from Kingsport. The town of Unicoi is situated right off I-26 which means our residents have easy access to the airport, medical facilities, shopping, dining and many other entertainment options.
Unicoi TN Business Opportunities
Many residents in Unicoi are farmers, caterers, bakers or other professionals working in the food service industry. To help these food entrepreneurs grow their food, businesses in the town of Unicoi partnered with food industry consultants and created Mountain Harvest Kitchen Food Business Incubator. The kitchen is a certified, commercial culinary production facility which meets FDA standards and undergoes regular inspections by the Tennessee Department of Agriculture. With the help of this facility food entrepreneurs can boost their business by streamlining their production. Small food business owners can also benefit from becoming a part of the network, gaining new knowledge and getting connected with local distributors.
However, you don't need to be an entrepreneur to benefit from Mountain Harvest Kitchen. If you love food and love learning new recipes there are classes held at the facility for anyone who wishes to expand their culinary skills.
More Things to See in Unicoi TN
Bogart-Bowman Cabin
The rich historical heritage is one of the many things attracting prospective home buyers to the Unicoi TN real estate market. One of the frequently visited venues is the Bogart-Bowman Cabin located along the Buffalo Creek. The cabin is believed to be built in the late 1700's or early 1800's and it features very well preserved architectural details, as well as early frontier carpentry. The unique structure, along with the land it sits on, is used for many town events including the Annual Christmas at the Cabin. This free event shows visitors how people in the 1700's and 1800's celebrated Christmas with candy cane hunts, visits with Santa, caroling and the lighting of the Christmas tree.
Jack Snider Park and Pinnacle Tower Trail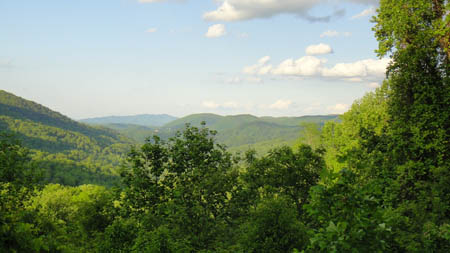 Jack Sinder was a local resident who donated his land located at the base of Buffalo Mountain to the Town of Unicoi. The town partnered with the U. S. Forest Service and the Pinnacle Tower Trail was created. The trailhead is a part of the Jack Snider Park together with parking and public restrooms maintained by the town.
The Pinnacle Tower Trail is a favorite destination for hikers, bikers, and families looking for some semi-challenging trail in the woods. The trail runs for almost 5 miles up the Buffalo Mountain and ends up at the renovated Pinnacle Fire Tower. On average, it takes about 2,5 hours to climb to the top and less than 2 hours to come down. Most of the trail is through forest at a steady 6% to 7% slope.
The Pinnacle Fire Tower was part of the network of fire towers constructed in the Cherokee National Forest in the late 1920's and early 1930's. These fire towers were built on high points to provide a 360-degree view with 1o-15 miles of visibility. There was usually one or two people working in the tower scanning the area for smoke and also monitoring wind speed, humidity and temperature. The Pinnacle Fire Tower used to feature a living area with a cot, a refrigerator and a kitchen stove. The fire towers became obsolete by the late 1980's when airplanes proved to be a more effective tool at detecting fires. In 2011, the tower was renovated and turned into a covered, metal viewing platform.
Today, once you reach the top of the Buffalo Mountain and climb up the steps to the top of the tower, you are awarded with a breathtaking view of "The Valley Beautiful" which is what North Indian Creek Valley is often called. On a sunny day, apart from the town of Unicoi, you can also see Erwin, Johnson City, and parts of North Carolina and Virginia.
Unicoi, Tennessee is a wonderful community full of natural beauty, interesting history and great people. Our exclusive buyer agency can assist you in searching the Unicoi TN real estate market and help you find your dream home. Send us an email or give us a call at 1-423-283-4677.