Bluff City TN Real Estate Market
Bluff City is a small town in Sullivan County in East Tennessee.  This historic town located on the banks of Boone Lake has a population of a little over 2,000 residents. Bluff City is a part of the Kingsport–Bristol (TN) Metropolitan Statistical Area. The Bluff City TN real estate market offers a variety of properties located on large lots overlooking some beautiful East Tennessee scenery. Prospective home buyers looking to settle down in a small community surrounded by a plethora of outdoor activities should visit this quaint community.
Bluff City TN Real Estate For Sale
The prices of Bluff City TN homes for sale range from the $100,000's to over a million. There are some fixer-uppers available for sale as well as newly renovated houses offering the latest upgrades such as open concept living rooms, stainless steel appliances, pendant lights or raised sink bowls. Most of the properties are situated on large lots which are perfect for starting your own garden or building a playground. There are also farmlands available for sale with barns and fenced lots which are ideal for cattle or horses. Check out some of the newly renovated Bluff City TN real estate properties for sale:
Search all Bluff City TN Homes for Sale Here
Because of a relatively small number of properties available for sale in the area, Bluff City homes are almost always in demand. The best chances for a successful real estate negotiation is working with an exclusive buyer agent who has years of experience and knowledge of the local market. Learn more about our exclusive buyer agency services. 
Bluff City Area
The rolling Tennessee hills, with lakes and rivers running through the area form a charming setting which attracts many home buyers to the local market. Bluff City is a perfect town for active families who love outdoors. From working in the garden in your own backyard to exploring the great outdoors, there is a great number of activities for anyone to enjoy. Bluff City is a small town which means there is less traffic making it an excellent area for jogging or going for a stroll around town. Less traffic and low crime rate create a safe environment for living, working and playing.
PLACES TO VISIT
Tri-Cities Flea Market
If you love shopping and you're always on a hunt for a bargain you should spend the weekend exploring the Tri-Cities Flea Market. The Tri-Cities Flea Market in Bluff City is one of the largest flea markets in Tennessee. There are almost 1,000 vendors showcasing their merchandise in eight indoor buildings, five open air sheds and 272 outdoor spaces. All the locations are handicap accessible and parking at the venue is free. Some of the vendors include $1 items, antiques, car accessories, jewelry, toys, home décor, clothes and many more. If you get hungry while rummaging through the stalls there is a food court offering delicious meals and snacks.
Worley's Cave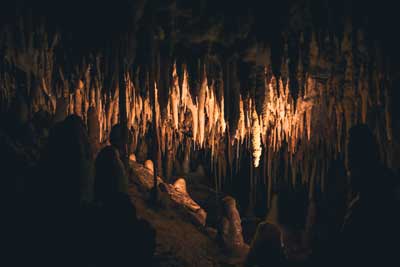 Worley's Cave is a must see for any adventure seekers! The cave is considered to be over 550 million years old and it stretches over 4.4 miles. Worley's Cave, also known as Morrill Cave, is the second longest cave in the state of Tennessee. The cave consists of many tunnels and caverns with stunning formations, columns, stalactites and stalagmites. In Worley's Cave it is a constant 55 degrees year round.
Visiting Worley's Cave is one of the most unique experiences because it is not a usual tourist venue with handrails and lamps. The cave is a part of a private property and the owner only charges $5 to enter. When exploring the cave you can expect lots of climbing up and down, getting muddy and trailing through an underground stream. However, unless you're an experienced spelunker you should most definitely get a guide who can also provide you with special equipment such as headlamps, and ropes. There are some companies in the area offering camp and cave packages which includes spending the night in the cave.
Stickley Farm
Stickley Farm is a popular venue a whole family will enjoy. The farm offers many attractions for kids and adults such as hayrides, inflatables, petting zoo, play areas, slides and a zipline. Additionally, it has a haunted attraction which takes you through haunted buildings, woods and a corn field maze. There are several events being held here throughout the year such as a corn hole tournament and a car show.
Backyard Terrors Dinosaur Park
Backyard Terrors Dinosaur Park is a wonderful place for dinosaur lovers of all ages. The park features over sixty life-size dinosaur replicas located in different spots in the wooded area. There is an information board next to every dinosaur which makes this pre-historic walk a wonderful educational experience. Perhaps the best thing about this unique park is that it's completely free of charge! The owners who make and maintain the dinosaurs want to make sure every child can have a chance to see these amazing models. Donations and gift shop purchases are highly appreciated to help with maintenance and the expansion of the attraction.
The venue also offers a special after hours event which involves exploring the park after dark. During the Dinosaur Park in the Dark event the guests will walk around the woods with their flashlights while hearing the sounds of dinosaurs crashing through the trees, experiencing a fire erupting volcano and more!
Bristol Motor Speedway
If you are a car racing fan you would be happy to know the Bristol Motor Speedway is located only four miles from Bluff City. Bristol Motor Speedway is the third largest sport venue in the United States and the seventh largest in the world. This short track venue is highly appreciated by NASCAR because of its extraordinarily steep banking, an all-concrete surface, two pit roads, and stadium like seating.
Are you considering buying a home in the beautiful Bluff City area? We encourage you to sign up for our FREE listing alert services and receive email notification when a property you may be interested in enters the market. If you have any questions about the Bluff City TN real estate market send us an email or give us a call at 423-283-4677  today. We'd love to hear from you!