Welcome to A Buyer's Best Choice Realty®
Buyer Representation Exclusively®
A Buyer's Best Choice Realty® is committed to providing THE BEST Real Estate home buying experience available, from NE Tennessee's ONLY Nationally Certified and Award Winning Exclusive Buyer Agents.
We Serve Home Buyers Only in: Johnson City, Kingsport, Bristol, Jonesborough, Elizabethton, Gray, Erwin, Unicoi, Piney Flats, Greeneville, Telford, Blountville, Bluff City, Church Hill, Butler, Hampton, Mountain City, Flag Pond, Watauga Lake, Boone Lake, South Holston Lake, Fort Patrick Henry Lake, Bulls Gap, Mount Carmel, Rogersville, Surgoinsville, Limestone, Watauga, Fordtown, Sulphur Springs, Bowmantown, and Fall Branch, in addition to all communities in Washington, Sullivan, Carter, Unicoi, Johnson, Hawkins, and Greene Counties.
Are you're looking for a specific type of home or are you just browsing various real estate properties? It doesn't matter what your preferred way to search for Tri-Cities, TN area real estate is, we've got you covered! Our Northeastern Tennessee real estate website offers many resources and tools to help you find the home of your dreams.
Johnson City Tennessee Exclusive Buyer Agency
As Johnson City exclusive buyer agents we will immediately bring any unwanted issues related to a particular property you may be interested in to your attention. The last thing we want is for a home buyer to regret their purchase.
Our 3-Step process for Buying Real Estate
Determine a Budget

- Identify what type of home you're wanting to buy (and where) and establish a budget for that home.

Get Pre-Approved for a Mortgage

- We will help you find a lender that will help you determine what you can afford.

Search for Your Home or Condo using an Exclusive Buyer's Agent

- With your specifications and budget in mind, we will help you find the perfect property and coach you throughout the entire home buying process, advising you of all pro's and con's of any property you might consider.
Become informed about your opportunities as a home buyer, and the advantages you gain by using an EBA.
There are many other types of real estate agents in the Tennessee real estate market who may claim they will give you "the exclusive treatment" and more. However, be aware, unless you're dealing with a truly exclusive buyer's agent there is no guarantee you will work with someone who will always be looking out for your best interest while keeping your motives and budget totally confidential. Be an informed buyer and always ask for an Exclusive Buyer Agency Agreement.
An Exclusive Buyer Agent will help you choose the right lender for your particular set of financial circumstances, and will counsel you on reasons for getting pre-approved before you make an offer on any property. Our primary goal is to help you find the home which best fits your lifestyle and your expectations, but also one that won't break your budget and you can afford. To help you avoid financial mistakes that often accompany home buying, check out our brief mortgage tips and information page.
An Exclusive Buyer Agent will help you find a qualified home inspector who will treat you as their client and not as a customer, making sure the home you're considering purchasing is not a potential money-pit. Prospective homebuyers are often confused about home inspections and buying real estate in Johnson City, or any other area of North Eastern Tennessee.
Our Managing Broker/Co-Owner, can assist you with Area Information (including Tax Rates), Loan and Mortgage issues and information, and even occasional short and longer term Rentals, if it can further supplement your relocation needs.
View some unsolicited Written and Video Testimonials.
Finding the right home for yourself or your family is not an easy process and often takes a lot of time and patience. We invite you to keep visiting our site and check out new inventory by using the  search tools we have on the site. You can set up a Listing Manager Account which gives you the ability to save your favorite searches. You can choose to opt for Email Updates so whenever a new property comes on the market fitting your specific criteria you'll get an email letting you know.
Our team at A Buyer's Best Choice Realty® knows the North Eastern Tennessee area as well as its real estate market. We can show you all types of properties for sale, including for sale by owner, foreclosures and more. Give us a call today 423-283-4677!
If you wish you may Contact Us for a no commitment consultation, or for more information on how we may be able to assist you in procuring you a new home! You may also wish to sign up for our Relocation Information & Homes Book. The Chamber of Commerce will charge you for this material, but we will send you a preliminary package, that contains MUCH of the same info, and MORE, all at NO CHARGE TO YOU.
SEARCH FOR HOMES NOW
NO REGISTRATION REQUIRED!!!
If you're new to the North East Tennessee area we suggest you begin to check out the vast amount of information our team has put together about some of the most popular communities in the region. Each of our community pages points out the many lifestyle aspects that may be especially important to a prospective home buyer. Additionally, you can learn about typical real estate options for a particular neighborhood you may be interested in, as well as actually see details and photos of the properties available for sale right now by searching our advanced database of North East Tennessee area real estate. Here is info on just a few of the more popular areas...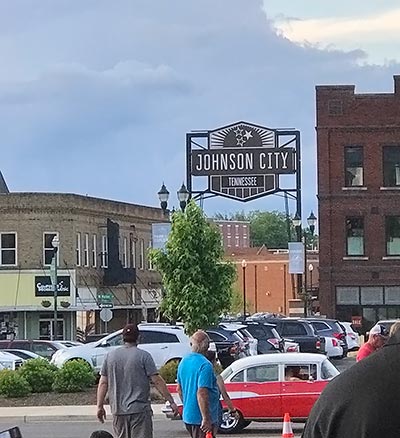 Johnson City was was founded on Dec. 1, 1869 in Northeast Tennessee, where three railroads — the East Tennessee and Western North Carolina, the Clinchfield, and the Southern Railway — converged. The estimated population of Johnson City was 66,391 as of the July 2017 Census. Johnson City is a combination of big-city amenities, small-town Southern charm, and world-class outdoor recreation, making it a travel destination for many. Whether you're looking for your next adventure, a leisurely weekend retreat, or to purchase a home to relocate to Johnson City TN, there is something here for everyone.
Kingsport is a city nestled in the foothills of the Appalachian Mountains, where you can pursue the opportunities of a larger city while enjoying small town living. The population of Kingsport is around 54,000 people. Kingsport features one of the most affordable costs-of-living in the nation, allowing you more spending power for your dollar. Residents in Kingsport proper pay no income, personal property, or vehicle taxes. Search for your perfect "palace" here in "The Port of Kings."
Bristol was incorporated in 1856, and is nestled in the mountains of northeastern Tennessee about 100 miles east of Knoxville and occupies land area of 32 square miles with a population of approximately 25,500. Bristol was declared by the U.S. Congress as the Birthplace of Country Music and is known world wide as the "Big Bang of Country Music". Bristol is also home to the world's fastest half mile race track at Bristol Motor Speedway and Dragway. Find your perfect Bristol home for sale here.
Jonesborough preserves its historical charm in order to make it an interesting place to live and work, as well as to provide a destination for visitors interested in Tennessee history. It is the oldest town in Tennessee, established in 1779, seventeen years before Tennessee was granted statehood and is located between Johnson City, Kingsport, and Bristol. Whether you are in Jonesborough on vacation to simply visit for a day, or you are thinking of moving to Jonesborough, you will find plenty to keep you busy. Search for historic homes in Jonesborough here
Elizabethton is located in the Northeastern tip of Tennessee. Compared to the rest of the country, Elizabethton's cost of living is 21.9% lower than the U.S. average. With a population of 13,796 people, the median home cost in Elizabethton is around $112,000. Home appreciation over the last 10 years has been about 4.9% in Elizabethton. Browse homes for sale in Elizabethton here.