Fall has officially started. Days may still be warm and sunny but the evenings are getting noticeably cooler. Leaves will start to change colors soon painting the surroundings in various shades of yellow, red, orange, purple and brown. All of these events should signal to the homeowner it is time to prepare their Tennessee home for the cooler months ahead.
Check Your Tennessee Home HVAC System
The last thing you want is realizing your house is not heating up properly while the temperatures are dropping outside. Therefore, the first item on your to-do-list should be testing and tuning up your heating system.
Tune-up.
Regardless of what part of the country you live in you should have your heating and/or cooling system professionally tuned-up at least once a year. The HVAC system is one of the most expensive appliances in your home so keeping it in the best shape possible will save you money in the long run.
Test it.
On one of the cooler October evenings turn your thermostat to heat mode and set the temperature to 80 degrees Fahrenheit. If you have a furnace you should immediately hear it turn on and the warm air should start blowing within a few minutes. If this is not the case you could troubleshoot the issue yourself or call a professional to help you find the problem.
Change the air filters.
Changing air filters is simple and doesn't require professional help. Your heating system will run way more efficiently if you get in the habit of changing the filters frequently. It's a good idea to stock up on the filters before the winter season in case you are not able to get to the store due to the severe weather.
Check the fuel supply.
If you have a propane or fuel oil furnace, check to make sure your fuel storage tank is full and ready for the winter.
Don't forget about air ducts.
Your system ductwork is one of the most overlooked components of an HVAC system. The problem with ductwork may cause your whole heating system to run inefficiently wasting a lot of energy and money. Over time, even the best ductwork design may start leaking due to regular wear and tear. If you notice some areas of your home being warmer than others it may mean certain parts of the duct segments have been disconnected, damaged or clogged with dust and debris. You can inspect the ductwork in your house in easy to access locations such as attic or crawl space. Check for deteriorating duct tape and large amounts of dust at the seams which would indicate a possible air leak.
Check the heating vents.
Make sure that over the summer months the heating vents haven't been covered with some furniture or other household items which may block the air flow.
Check exhaust vents.
Many older furnaces and boilers vent exhaust gases through a chimney. Make sure these exhaust vents are open and free of obstruction.
Invest in a programmable digital thermostat.
If you don't already own one, consider investing in a programmable digital thermostat. You can program the thermostat to set the temperature a few degrees lower when no one is at home during the day cutting energy costs substantially.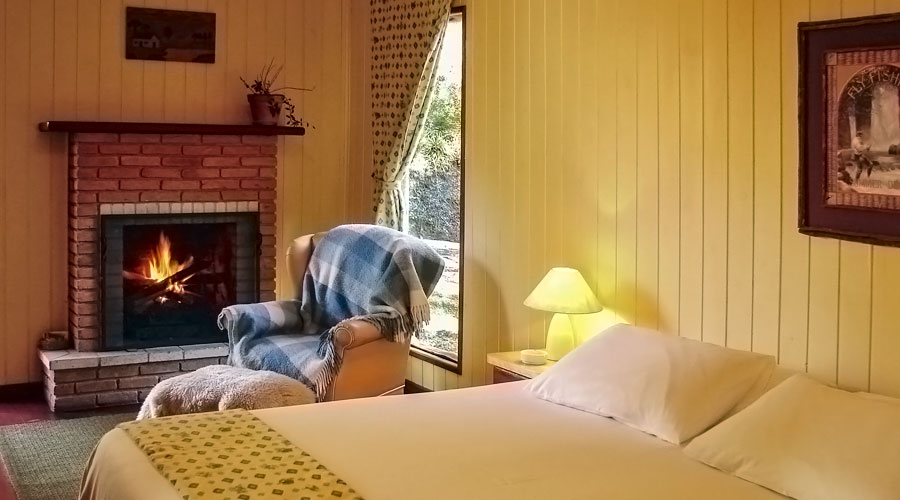 Inspect Fireplace and Chimney
There is nothing better on a cold evening than relaxing in front of a fireplace in your cozy Tennessee home. However, you should take time to thoroughly inspect, and if necessary, repair any issues with your fireplace and chimney before the winter sets in.
Check for obstructions.
Birds, squirrels and other small animals are famous for building nests inside chimneys. Check your chimney to make sure it's free of any obstructions.
Test it.
Test the chimney's draft by lighting a few rolled newspapers in the fireplace. If the smoke doesn't rise up the chimney it means there is something blocking the draft.
Clean it.
If you use your chimney a lot during the colder months the best way to avoid any unpleasant surprises is to call a professional to have it cleaned. Additionally, if you burn a lot of wood and coal you should clean your chimney more often. Wood and coal allow creosote to build up inside a chimney which may lead to chimney fires.
Check the firebrick.
Inspect your chimney's firebox for any cracks or deterioration in the mortar joints. If you happen to spot any you should repair them immediately. Hot gases may escape through open mortar joints and ignite the wooden frame behind the chimney.
Seal Windows and Doors
Cold air sneaking through small gaps around your windows and doors may cause your heating system to overwork escalating the heating bill in the process. On a windy day, walk around your home and check for any air leaks around your window frames and doors. If you feel some air coming through the cracks you can easily mend it using good quality, exterior-grade caulk.
Winterize the Exterior of Your House
Since the temperature is still pleasant outside it's a great time to step outdoors and winterize your Tennessee home.
Insulate water pipes.
Any exposed water pipes are more than likely to freeze and burst if left for a prolonged period of time in temperatures below freezing. Bursting water pipes may cause serious damage outside and inside your home. Make sure to insulate these pipes with electrical heating tape and foam insulating sleeves.
Winterize any exterior faucets.
Prior to the winter season you should drain water from any exterior faucets and shut down their water supply inside the house. Make sure you detach any garden hoses and drain them as well, putting them in a storage building or your garage during the cold winter months.
Shut down your sprinkler system.
Prepare your sprinkler system for winter by shutting off the water and draining the pipes thoroughly. This will prevent the plastic water lines from bursting due to the freezing water which may still be trapped inside.
Check the roof.
If you don't feel comfortable climbing up on the roof you should hire a professional to inspect it for you. The roof should be examined for any missing or damaged shingles. Additionally, check the exterior of your chimney, especially the flashing around it. Chimney flashing is supposed to create a waterproof seal which protects the roof and chimney from moisture penetration. If it's damaged or cracked it can create a major leaking problem during a snow day.
Preparing your Tennessee home for fall and winter takes a lot of work but it's necessary to maintain the value of your investment. Stay tuned for part two of how to prepare your house for fall and winter!
If you have any questions about the Northeast Tennessee real estate market or our exclusive buyer agency services give us a call at 423-283-4677, or send us a message, and we will get back to you as soon as possible!
Remember, we post tips on Twitter and Facebook! Check us out there.