In our previous post, we talked about all the crucial steps in preparing your Northeast Tennessee home for the fall and winter season, focusing on keeping your house warm when the temperatures drop outside. Once you've tested your house's heating system and made sure all the appliances are well insulated it's time to dive deeper into additional household maintenance tasks.
Outdoor Maintenance for Your Northeast Tennessee Home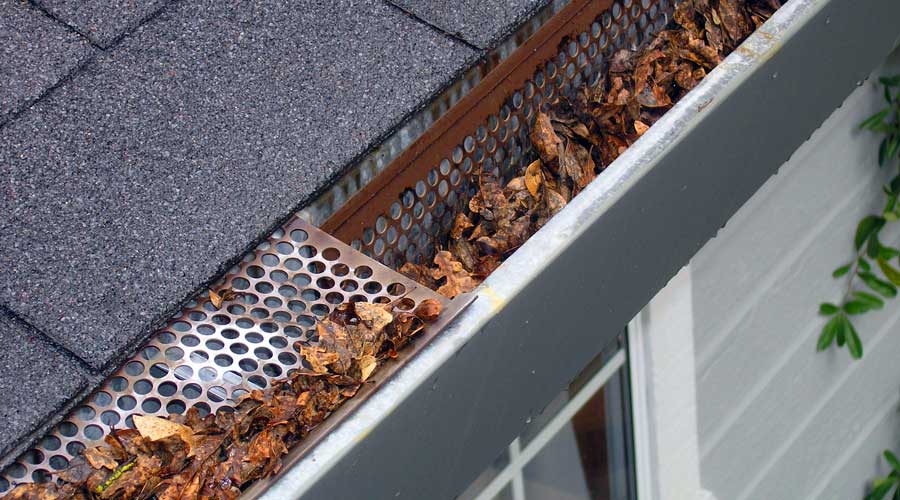 Gutters and Downspouts
Cleaning the gutters is one of the most important outdoor tasks for a homeowner which should be performed in the spring and in the fall. The beautiful fall foliage in Tennessee will have lost its splendor in a few weeks and there will be a pile of leaves to take care of. Many of these leaves will fill up your home's gutters and may block the downspouts. If left unattended, clogged gutters may obstruct the proper flow of water during a rainy, autumn day. Water flowing from the roof, if not properly directed through the gutter system, may damage your roof fascia boards and siding, as well as flood your basement or your crawlspace.
Cleaning gutters and downspouts is a relatively easy job but it does involve standing on a ladder. If you don't feel comfortable working on a ladder you may want to hire someone to help you with the task. There are few different ways to clean the gutters depending if debris is wet or dry. If you're dealing with wet trash you can place a tarp at the bottom of the ladder and simply scoop and drop the contents. Alternatively, you could cut the handles of a plastic bucket in half and hook it onto the edge of the gutter. If you're dealing with dry leaves which are light you can attach the bucket to the gutter's edge, cut off its bottom, fasten a trash bag around the bucket, and drop the content into the bag through the bucket's opening.
Once you're done with the gutters, inspect the downspout. If you have horizontal extension pipes remove them before cleaning. Use your garden hose to pour water down the downspout and clean any obstructions. If you're dealing with a lot of thick debris you may need a plumbing snake. Don't forget to check your horizontal pipes for any blockage!
Cleaning your gutters is a great time to check for leaks or any other damage. If you happen to notice any you can easily fix it with waterproof sealant tape or a spray sealant. When you're done cleaning the gutters and the downspouts, test the water flow by inserting a hose into the gutter far away from the downspout opening.
Outdoor Furniture
With cold weather fast approaching you probably won't be using any of your outdoor furniture. Fall is a perfect time to clean your outdoor cushions, pillows and umbrellas and put them away for storage. While you're at it, inspect your deck and decide if it might be time to seal it or to stain it. A properly sealed deck will be more resistant to winter damage.
Lawn and Garden
Enjoying morning coffee in your backyard during spring and summer is one of the best perks of owning a house with a yard. However, if you want your yard or garden to look as pretty as it did last season you need to prepare it for the cold months ahead.
Mow.
As long as the grass is growing in your backyard you should continue to mow it until cold weather will halt its growth. The best length to cut grass before winter is 2.5-3 inches. If you cut it too short the grass won't be able to absorb enough sunlight during the winter months and may be recovering from shock all spring. If you don't cut it and let it grow too long before the first freeze you may be dealing with snow mold come spring.
Aerate the turf.
Fall is a great time to aerate your yard to let nutrients reach deep into the roots.
Fertilize.
If you fertilize in the fall your lawn will have enough nutrients to stay strong during the winter. Make sure you choose the right fertilizer depending on the type of grass you have!
Clean up the leaves.
Just as with gutters you don't want to keep a huge piles of leaves suffocating your grass during the colder months. However, if you care about wildlife in your area, such as the bee population, leave a few leaves here and there since many species rely on leaf litter in the winter.
Clean up your garden.
Pick up any fallen fruit and remove all vegetable plant matter to prevent any pests from overwintering in the debris.
Protect trees and shrubs.
To protect your shrubs' fragile branches from snowfall damage consider using a lean-to or some other type of structure to keep the snow off the limbs. Additionally, you may consider wrapping the tree trunks with paper wrap to avoid frost cracking.
Don't forget to water!
If there is not much rainfall in the autumn you should keep watering the plants until the ground freezes. This is especially important if you own evergreen shrubs which are susceptible to drying out in the cooler months.
Indoor Maintenance for Your Tennessee House
With a plethora of outdoor activities our houses often get a bit neglected during the summer. Fall is a perfect time for deep cleaning inside your Northeast Tennessee home in preparation for all of the wonderful holiday festivities.
Bedroom
One of the things many homeowners often forget about it is to vacuum under the beds during the usual vacuuming session. While you're at it, make sure you vacuum and flip mattresses.
Bathroom
While cleaning your shower make sure there is no mildew or mold which needs to be treated. Clean all the drawers and cabinets and throw away any expired products.
Living Room
Apart from thorough vacuuming and dusting off all the furniture make sure to clean remotes and any other electronic devices.
Kitchen
Apart from the usual scrubbing make sure to clean the oven and vent hood. Clean the refrigerator and freezer, and get rid of any expired food.
Ceiling Fans
In preparation for the cooler months clean the ceiling fans in your home, and don't forget to switch them to make sure they rotate clockwise. By rotating clockwise fan forces warm air to flow downward.
Walls and Baseboards
Yes, the walls in your home attract dust and grime like any other surfaces. You should dust off the walls at least once a year paying attention to switches and doorknobs. Baseboards can get very spoiled especially in areas of your house with lots of moisture in the air, such as a bathroom and a kitchen.
After all this work it's time to relax and plan all the fabulous holiday get-togethers in your cozy and clean Northeast Tennessee home!
If you have any questions about Tennessee homes for sale or any other real estate in our market make sure to contact us at 423-283-4677, or send us a message, and we will get back to you as soon as possible!
Remember, we post tips on Twitter and Facebook! Check us out there.