With schools back in session and leaves changing their colors the fall season is in full swing. Most Tennessee homeowners look forward to the pleasant fall weather and spending more time outside enjoying the beautiful surroundings. Fall is also the perfect time to tackle some of the maintenance tasks to make sure your Kingsport TN home is ready for winter.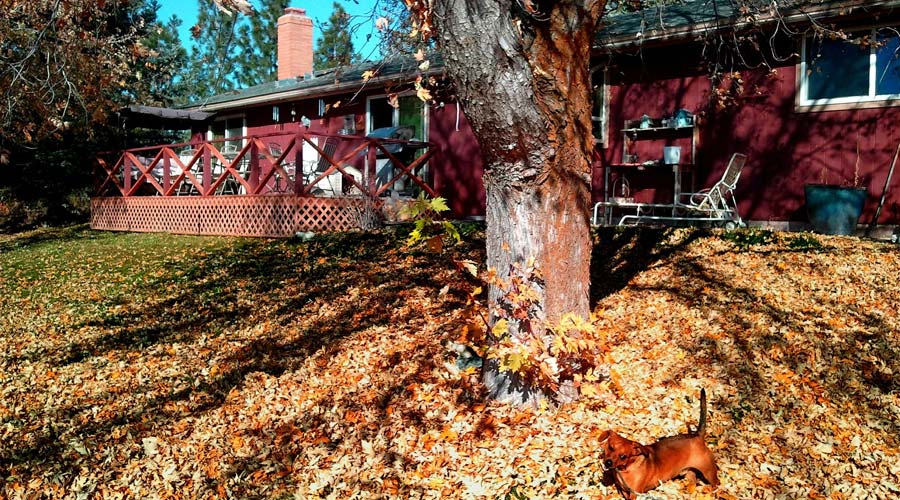 The Kingsport TN real estate market offers a wonderful variety of properties for sale, including a large selection of older homes. If you're a proud owner of one of these unique, older properties you know it takes a lot of upkeep to make sure your house stays in top shape. Older homes tend to have older appliances which may create some problems if not properly looked after. At the same time, one of the things which makes older estates so beautiful is their mature landscape which also needs to be properly maintained.
Furthermore, the real estate market in Tennessee, and most places across the country, is booming. If you are considering selling your Kingsport TN home in the near future, engaging in some projects to improve the outside of your home as well as your yard can bring a great return on the investment.
How to Prepare Your Kingsport Home For Winter
Below are some of the items you should focus on while working on your house in the fall, especially if you own an older property.
Gutters
One of the most important elements of your house exterior which is also often overlooked by homeowners are gutters. Gutters often get clogged with falling leaves and other debris which may in turn cause serious damage to your roof and other parts of your house. Experts recommend cleaning gutters several times during the year. Clean gutters redirect water away from your home and its foundation.
If the idea of climbing a ladder several times a year to clean your gutters seems a little overwhelming you may consider installing gutter guards. Gutter guards are installed over your gutters to act as a filter and keep most debris from settling down inside the gutter. Gutter guards come in a variety of designs depending on the type of roof they should be installed on and your house location. However, even if you already have gutter guards installed you still need to clean your gutters at least every two years since small flowers and seeds can still block your gutters over time.
Painting
One of the best things to instantly improve the look of a house is a fresh coat of paint. Cooler fall weather and low humidity are perfect for engaging in painting the outside of your home. However, before you crack open that paint can, inspect the exterior of your house for any bubbling and crumbling paint. This is especially important if you own an older Kingsport TN home. You should take care of any problematic areas first by scraping or pressure washing the old, cracked paint.
Doors and Windows
Before the really cold weather arrives you should make sure your house is properly sealed. Weather stripping and caulking around your door and window frames wear out over the years and need to be replaced. Keep in mind these are not the only places the cold air may slip through. Other locations you should closely inspect are gaps around electrical outlets, tv cables, outdoor faucets, and even heating and cooling ducts. It's a good idea to also check your basement windows for any cracks and drafts.
Energy-efficiency
On average, an older home is much less energy efficient than new construction properties. If you feel like your energy bill is getting higher every year now may be the best time to make your Kingsport TN home more energy efficient. It's always a good idea to contact your local professional and schedule an energy audit which will help you pinpoint the areas in your house which need improvement.
However, even without an expert audit you can upgrade certain elements of your house to cut down on that electric bill:
Insulation
As we mentioned above, eliminating as much draft as possible will ensure your heating system doesn't work overtime.
Programmable Thermostat
A programmable thermostat allows you to turn down the temperature automatically for the times when you're at work or asleep under the covers. You can adjust your thermostat to start raising the temperature gradually an hour before you come back home or getting out of bed. This way your heating system works only when needed saving tons of energy in the process.
Lighting
Inspect the light bulbs in your home and consider replacing them with more energy efficient options such as fluorescent light bulbs, or CFLs, and LED bulbs.
Appliances
If some of the appliances in your house are very old chances are they use a lot of energy and it may be the time to replace it. You'd be surprised how much a more efficient dishwasher or washing machine can lower your monthly utility bill.
Making your home more energy efficient is not only great for your wallet and the environment but it's also one the most desired features among prospective Tennessee home buyers.
Landscape
If you want to make sure your yard looks its best next Spring now is the time to make some preparations. In the fall the plants above ground slow down their growth but the moist soil encourages strong root development. Therefore, it is crucial to remove leaves, and dead branches covering your lawn and to aerate the soil so water and nutrients can reach the roots. This is also a great time to plant new shrubs giving them a lot of time to establish their roots.
Additionally, consider trimming any dead branches or bushes especially if they are located near windows or powerlines. Dead branches may snap under heavy winter snow or in a strong wind and damage your property.
Remember, we post tips on Twitter and Facebook, many of these relate to seasonal home maintenance. Check us out there!
Contact us now for any Northeast Tennessee home buying questions or needs, including areas of Johnson City, Bristol, Kingsport, Jonesborough, and Elizabethton.