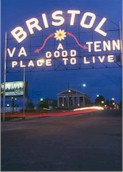 Bristol is part of the metropolitan statistical area of Bristol, Johnson City, and Kingsport, commonly called the Tri-Cities. Located in the states of Tennessee and Virginia, Bristol is a unique city, rich in history and legend. Presently, along State Street, metal plates following the center line mark the exact boundary between these two famous cities that straddle the border. A lighted sign, which was erected in 1910 and is listed on the National Register of Historic Places, spans across State Street declaring Bristol Tennessee and Bristol Virginia "A good place to live."
Bristol is an area to enjoy with four distinct seasons all in moderation. The average spring/summer temperature is a warm and sunny 78 degrees Farenheit and in the fall and winter a mild 38 degrees Farenheit, with a few snowflakes to cover the breathtaking mountain scenery. But scenery is not all there is to keep Bristol as one of the most livable cities in the United States as rated by American Demographic Magazine. Bristol, as part of the Tri-Cities region, was awarded the All America City recognition by the National Civic League in 1999. Bristol Motor Speedway Twice a year 160,000 - plus race fans flock to Bristol to enjoy the spring and summer Busch Grand National and Winston Cup races at the Bristol Motor Speedway. The Bristol Dragway hosts championship drag racing and is sanctioned by the National Hot Rod Association.
Bristol is also largely known for being the site of some of the original commercial country music recordings. Artists like Jimmie Rodgers and the Carter Family, to name a few. Tennessee Ernie Ford was born here, and Bristol was recognized by The U.S. Congress as the "Birthplace of Country Music" in 1998. The Birthplace of Country Music Museum is located in Bristol, and is a growing attraction, to this day.
The City School System operates schools covering grades kindergarten through 12, with an approximate enrollment of over 4,000 students and professional teaching staff of over 250. The system is accredited by the Southern Association of Colleges and Schools. It boasts test scores in the top 25% in the state.